Church Plants
June 6, 2022
Click on the picture below for information about the new church plant lead by Josh and Monica McBurney.


April 24, 2022

We celebrated the commissioning of our Cornerstone Church plant. Looking forward to seeing God work through Pastor Aaron and this amazing team in reaching this community for Christ!

April 2nd, 2022
We now have our own website for Cornerstone Church in Hensall. Click below to be directed to our new site!

January 26th, 2022
Well, A LOT has happened since the last Church Planting update and we're excited to share it all with you here.
Through much prayer, hard work, and discernment, our church planting team has settled on a location and a building. We believe the Holy Spirit is leading us to plant a church in Hensall, ON which has no church presence or gospel witness. It is centrally located in South Huron, full of families, and ripe with opportunity. We have many relational connections there already and have been providentially provided with a building to do ministry. We will be renting and using the old United Church Building on main street.
We also have a name: Cornerstone Church. We wanted a name that articulates our vision and resonates with our community. Our desire is to see everyone in Hensall building their lives on the firm foundation that is Jesus Christ. Our logo and website are currently being developed.
Through this process, God has been SO good and people have been super generous. We have a gracious budget from EBC for our new church, and along with that budget, we are seeking to raise funds before we launch. In the month of December alone, while not actively fundraising, people donated almost $50,000! This is incredible and we are so grateful. We have a goal of reaching $70,000 by May 1st. If God has laid it on your heart to partner with us in this kingdom work, visit our "GIVING" page, change the designation to 'Emmanuel Church Plant' and bless away.
Our leadership team has been meeting regularly to train, plan, and implement ministries. Our launch team is now complete and will begin evangelism training soon. Up next will be building a presence in the community and piloting our Life Groups. People often ask "when are you launching?" The answer to that is layered. In once sense, we have "started" our church but formal Sunday gatherings are still a ways away. As mentioned above, we will begin to pilot our ministries at some point in the next couple months. We anticipate that by spring our launch team will start meeting on Sundays and eventually open the doors to everyone and anyone when all the 'behind the scenes' pieces are in place.
As you finish reading this update, we need something from you: prayer! Pray for guidance from the Holy Spirit. Pray for the hearts of those in Hensall to be receptive to the gospel. Pray that God would provide EBC with a new Youth Pastor. Pray for our financial needs to be met. And pray for unity for our launch team. Thanks in advance and God bless.
Pastor Aaron & the Cornerstone Leadership Team
November 10, 2021
Dear Church Family,
Lately my reading has been in Luke and I have been particularly encouraged by Christ's command to go, not only to the twelve (Luke 9:1-8), but also to the 72 (Luke 10:1-24). There is an urgency to Christ's command as "The harvest is plentiful, but the workers are few" (Luke 10:2). What I found to be encouraging and profound was that even though it was a difficult task, "Go! I am sending you out like lambs among wolves." (Luke 10:3), the 72 returned with joy (Luke 10:17) having obeyed Christ's command. May we be found faithful as a body to Christ's command to go and to share in the joy that the 72 experienced in having willingly obeyed.
We want to provide an update on where we currently are in regards to the church plant. Two weeks ago, we shared where we believe God is leading us with a location/locations for the church plant as well as the core team. We also talked about the mission and vision for the plant, all of which can be found on our website under church plant (https://www.myebc.ca/ChurchPlanting1). The last piece we shared was our role as a sending church. We described our role as it related to provision, participation and prayer.
Provision
When we talk about provision, we are talking about our need to provide for the new plant. This can take many forms; one of which is financial. We released the proposed budget on November 7th, ahead of our fall AGM scheduled for November 28th. We encourage you to pick up a copy at the church or request an online copy.
From the beginning of the church plant process, we have said that there would be an opportunity for the church membership to vote for the church plant at our November AGM. The opportunity to vote for the church plant will be in the form of a vote for the 2022 budget. If you have any questions regarding this, please do not hesitate to call any of the pastors or elders. Proxies will be made available in the package handed out at the church. You can either call or come to the church to get your package.
Participation
We are so thankful for those of you who have expressed a desire to serve; both at EBC or at the church plant. We continue to ask you to pray for where you can serve and to also pray for the nominating committee as they pull together a nominating report for our November AGM. The nominating report should be available on Sunday November 14th.
Prayer
It is hard to believe that we have been in prayer for this plant for close to 2 years and we are excited to see where God is going to lead from here. We are planning a prayer summit for Nov 21st at 7:00 pm at the church. We would encourage you to come out as we join our hearts in corporate prayer for the plant as well as for a new youth pastor. We continue to covet your prayers and look forward to how the Lord will lead us in the days to come.
In His service,
On behalf of the Elders,
Shawn Walker
Nov. 3, 2021
On Sunday, Oct. 24th, our pastors and elders released new & exciting information regarding our church plant. They shared with us the Leadership Team as well as the two locations they feel God is directing towards: Hensall or Grand Bend. Structure was also discussed and the budget details will be released soon. All this can be viewed on our Youtube channel by searching for the Oct. 24th Service.
When planting a new church, the first question everyone asks is "where is it going to be?" The second question they ask is "what's it going to be like?" The information below answers the later; what the church plant will look like. This is our mission, commitment, and strategy:
OUR MISSION
The mission of our church, driven by the gospel, is to be obedient to The Great Commandment and The Great Commission. We love God, so we live to bring him glory. Satisfied in Him, we joyfully surrender our lives to His good purposes. We love one another, so we live to spur each other on to greater spiritual maturity by teaching the Bible and apprenticing to Jesus together. And we love our neighbour, so we live for their good, sharing with them the good news of God's love so they too can experience His amazing grace. And we do all this empowered by the Spirit; dependent on the One who will accomplish His purposes in us and through us as we stay humble in attitude and active in faith.
God has called us to be salt & light in the neighbourhoods, workplaces, and community spaces of [Hensall and/or Grand Bend] and the surrounding area. It is here we aim to be effective in evangelism, dynamic in discipleship, and fruitful in sending out workers to extend the reach of God's Kingdom.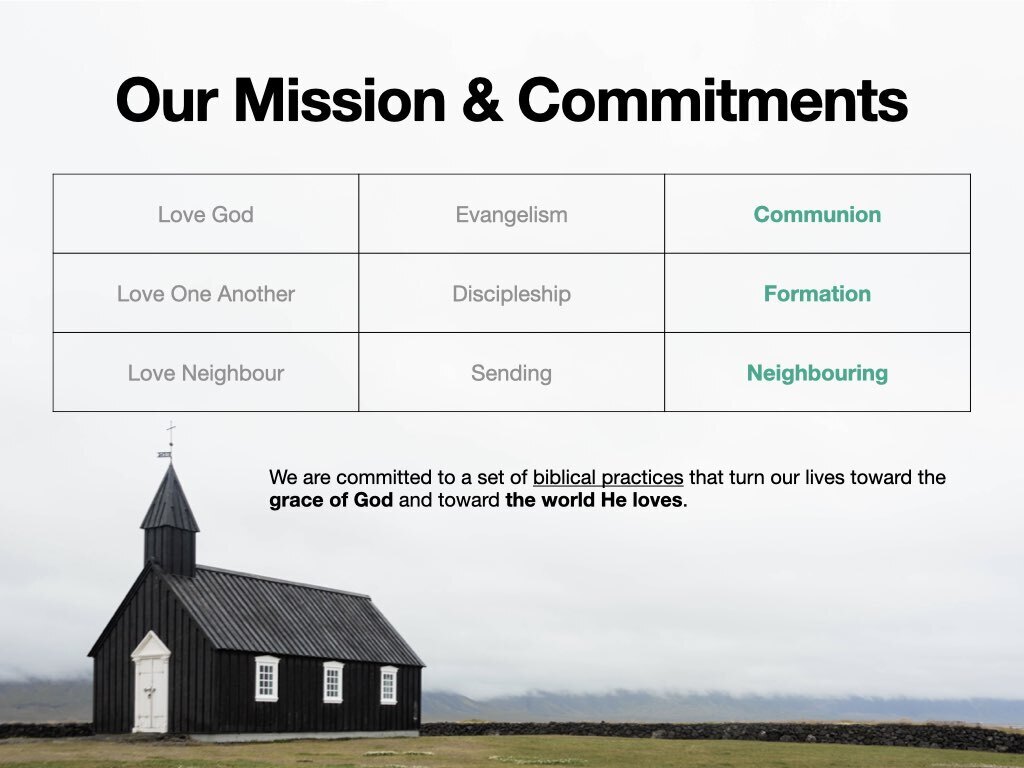 OUR COMMITMENT
To this end, we are committed to a set of biblical practices that turn our lives toward the grace of God and toward the world He loves.
We are committed to communion. We gather together to be present to God and present to one another. We submit to Christ and His will through worship, awareness, and abiding in Jesus, and seek to meet the needs of our spiritual family.
We are committed to formation. We want to build a culture of discipleship that both invites and challenges everyone to grow spiritually and seek first the kingdom of God. This requires deep & authentic relationships as well as keeping the gospel at the centre of everything we do.
We are committed to neighbouring. We want extend Christ's presence by practicing hospitality in our homes, by being gospel witnesses to our neighbours, and by coming alongside the hurting persons of our community.
OUR VALUES
Our values provide the framework for how our church will interact with each other and our community. They are extremely important to us and shape our daily behaviours.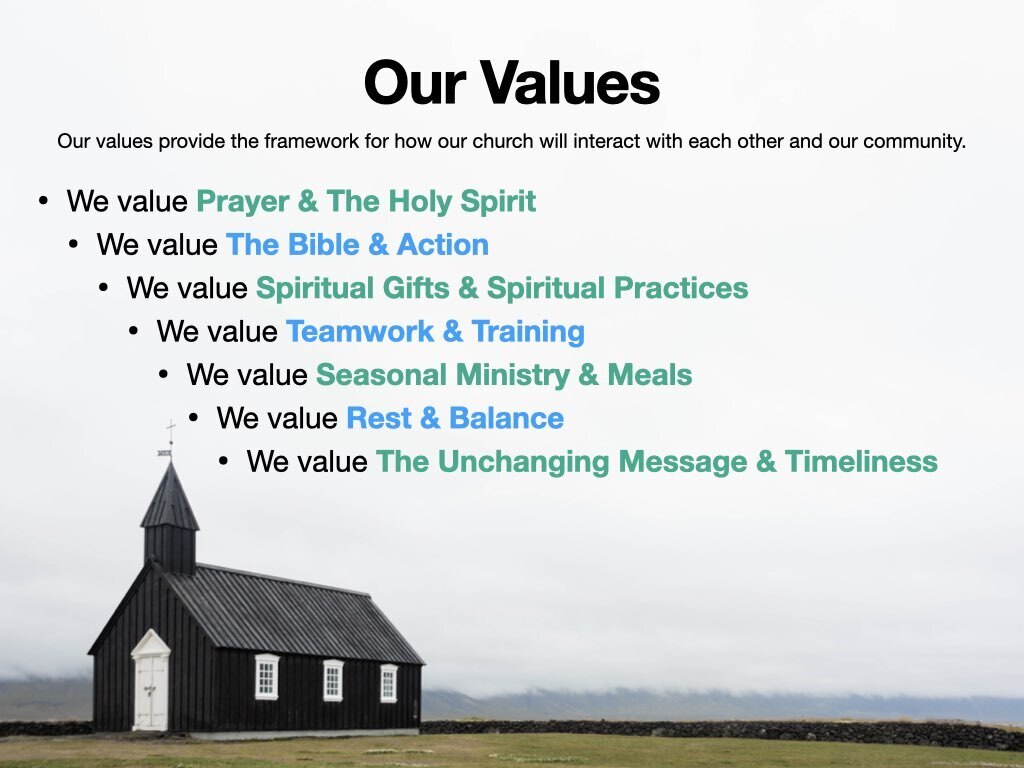 OUR STRATEGY
Where can you find our church practicing communion, formation, and neighbouring? Well, you can certainly find us gathered together on Sunday mornings in a building, but you will also find us "doing church" in our homes, workplaces, and community spaces throughout the week. It might be helpful to think of our practices as "on the move," as Jesus instructed us to make disciples "as we go." They occupy three spaces continually, represented by 1) a close circle, 2) a dotted circle, and 3) a half circle.
Sunday morning gatherings is our close circle. Notice the language - this is not a closed circle that excludes outsiders. Everyone is welcome to come as they are and explore faith. This is a close circle because a supernatural unity exists among a group of Christ-followers who gather to worship Him, abide in Him, train under His word, discern His will, and join His mission. In this space, Jesus is our Host. Communion and formation take place here, but not here only. The presence of Christ extends out from the close circle into our neighbourhoods through us as we go back to our homes. Our homes are represented by a dotted circle. Here, we are now the host, practicing hospitality, evangelism, and formation by inviting brother, neighbour, and stranger to gather around our table and see who God is. But Christ's presence doesn't remain in our homes either, it goes out with us into the community spaces we occupy like our workplaces, schools, arenas, and neighbours homes. Here we go into the world as guests, never asking if Christ will be present, but asking if his presence will be welcomed. This space is represented by a half circle.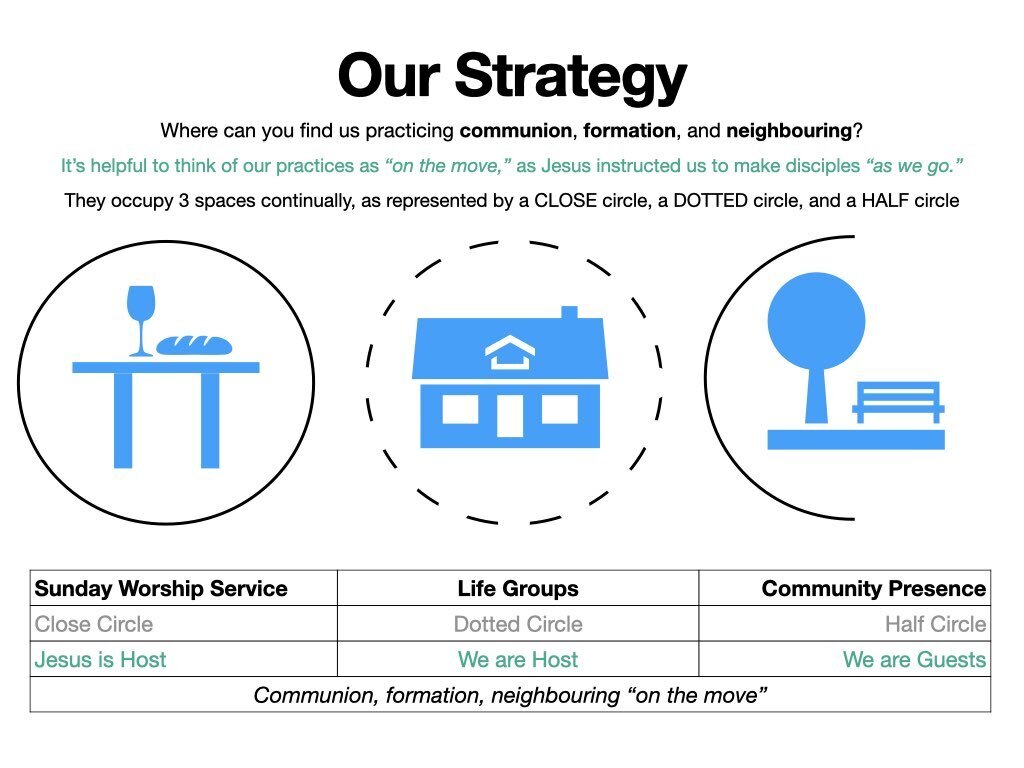 As a new church plant, we want to start small and focus on doing a few things well. Our desire is to be highly relational and to target the unsaved, unchurch people in our community. Evangelism will certainly be the emphasis early on but will not negate our aim to disciple, train, and send. In year one, we will focus on doing three main ministries: Sunday Morning Worship Services, Life Groups, and Community Presence.
All three of these can be considered the "front door" or "entry points" into our church. Some may come to church through a Life Group and not attend a Sunday Service for a while - that's okay. Others will get connected through our community presence and others will show up for services. As our church grows, we will develop new programs to accommodate that growth. Every member of our Leadership Team and Launch Team will be trained for and serving in one, two, or all three of these areas.
Oct. 12, 2021
Church Family, we want to Praise God, that Aaron has been set apart for church planting as voted upon by the church at 80% two weeks ago. As a leadership team we are excited that we as a church are stepping out in faith & extending our reach. Since that time, Aaron and the elders have been planning in preparation for a team to be released in the new year. The leadership team met last Wednesday and discussed budget, structure & accountability, location, and the motion to be voted on at our November AGM.
We appreciate your patience as we seek God on all of these and more aspects of the church plant. Sunday morning on Oct. 24th, we will be providing the church with all of the information we have so far. Pastor Tim, Pastor Aaron and Shawn will discuss the new church plant and what that will look like, where we are planning on planting, the relationship between EBC and the plant and much more. After the service, all of the elders and Pastors will be available to answer any follow up questions you may have. We would encourage you to attend and be in prayer for that service.
We would ask that you be praying that the Lord continue to guide and direct us as we plan and that it be His ways and not ours. Specifically, can you be praying for a potential meeting this Wednesday regarding a physical location for the plant. Pray that if this is to be the church plant location that God shows us that clearly. Please also be in prayer for a potential Youth Pastor candidate that we have contacted. Pray that if this is our next Youth Pastor that the Lord make that clear to both of us.
For His Glory,
Shawn
Sept 6, 2021
As I write this update, it is Labour Day and what feels like the winding down of summer, however we are excited to see what God has in store for Emmanuel this fall. In a follow up to the announcement this last Sunday we wanted to provide the announcement information on our website and in written form.
First of all, I wanted to encourage all of our church family to listen to the most recent podcast that can be found here. We hope that this podcast will provide you with a better understanding of what the vote on September 19th is and what the next steps are for the church plant.
September 19th Vote
The motion being brought to the church membership is:
"To affirm Pastor Aaron's calling as a church planter, and to release him to assume the responsibility of preparing the church plant."
For this motion to pass there will be a required 80% approval and we will be doing this by secret ballot.
Pastor Aaron will continue to oversee Jr High (until June 2022), while Josh will lead Sr High until the end of December. If passed, this motion will allow time for Pastor Aaron to continue to seek God out, with the assistance of Elders, Staff and FEB, to determine where this plant is to take place, who the core team will be and establish logistics (budgets, structure, etc.).
November AGM
At the November AGM we will be presenting the church with a church planting plan that will outline finances, location, and the people involved in the plant. At that time, the church membership will be able to vote on the proposed plan. We would encourage and ask that our church family be in prayer and consider where you can step into ministry with the church plant or at EBC.
Youth Pastor Search
We have formed a search committee of Pastor Tim, Dan Pettapiece and Michael Cameron and they have begun the process of finding, with the Lord's leading, our next Youth Pastor for EBC. We again ask that our church family be in prayer as we seek the Lord's direction.
If you have any questions or concerns, we continue to ask that you please speak to the Pastors, any of the Elders, or myself.
We covet your prayers as we go through this process and we look forward to seeing what God will do in this region.
For His Glory,
Shawn