Missions Conference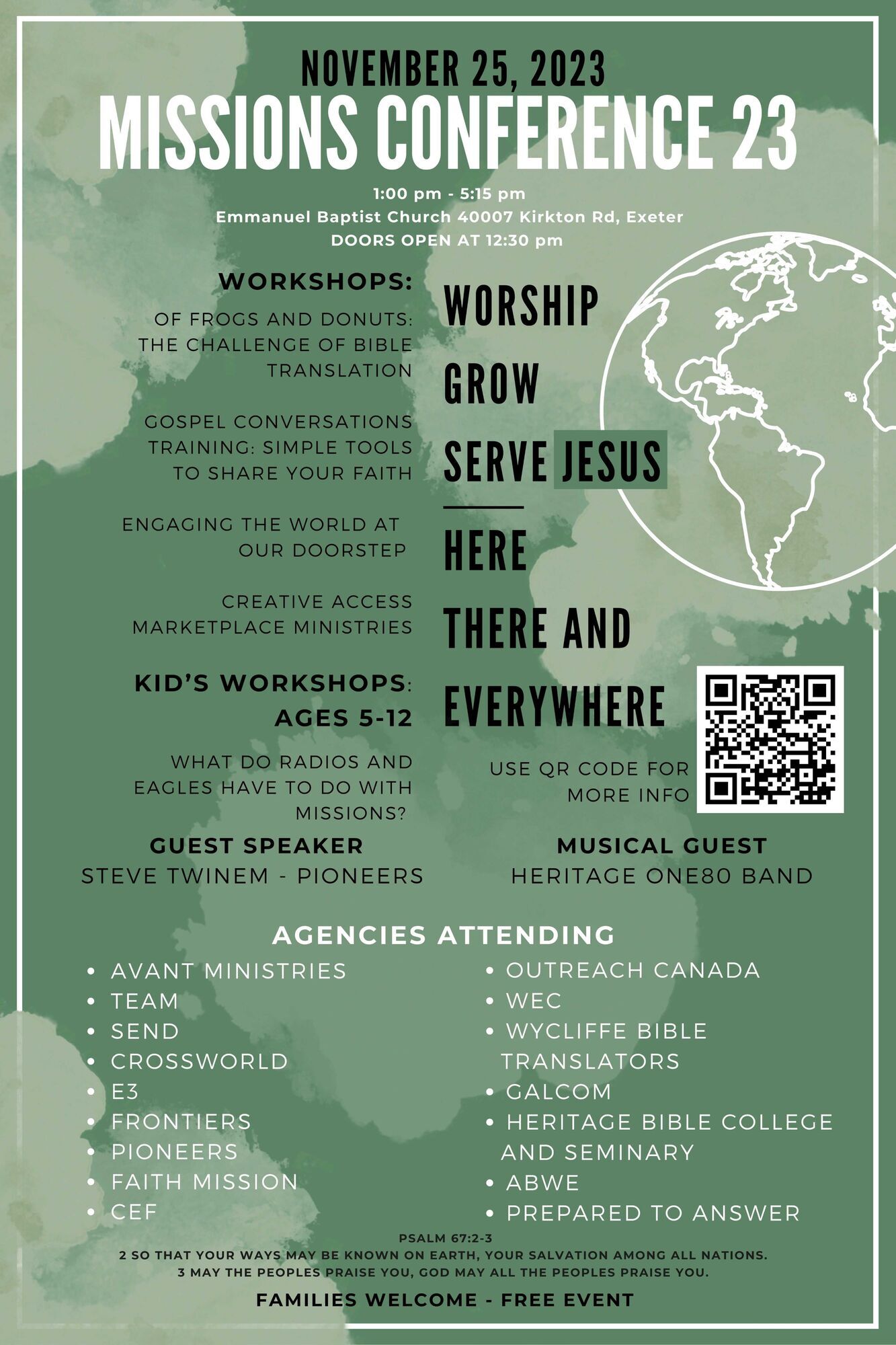 EBC Missions Conference: Saturday, November 25th, 2023
"Worship, Grow, Serve Jesus- Here, There and Everywhere"
Emmanuel Baptist Church Missions Committee is hosting a conference with an emphasis on missions throughout the week of November 20-25th, 2023. Saturday, November 25th 2023 will be the main conference which includes:
Main speaker, Steve Twinem from Pioneers
16 missions agencies
5 workshops (including workshops for children aged 5-12)
Musical Guest Heritage ONE80 Worship Band
International snacks available
---
WORKSHOPS
Creative Access Marketplace Ministries
Church planters, Bible study leaders, and evangelists still play a significant role in missions, but cross-cultural ministry has extended beyond these traditional roles. In this workshop, we will define and explain marketplace ministry, as well as what creative access is. You will also discover how marketplace ministry can be both advantageous and problematic. The workshop will end with some real examples of how marketplace ministry has provided sustainable income for the poor and provided opportunities to share the gospel in difficult places.
Engaging the world at our doorstep
When Jesus said 'go and make disciples," was He chuckling, thinking of the internet, & 21st century travel? - was He thinking, "Father, is it still 'go'ing at that point?"
In our increasingly multicultural world, the "nations" seem closer. The 'distance' is less about geography as it is about cultural/worldview variety. We need not always cross borders to reach nations, we CAN simply go for groceries, or to work, or even just to our smartphones.
Yet, while easier than ever to make friends with the nations, it is still a Supernatural task to make disciples. We need as much Spirit-lead, biblical-rooted wisdom as ever, to bridge non-geographical divides.
So, come consider with us, ways we can all join in God's mission, to introduce a world in need to Jesus, right at our doorsteps.
Gospel Conversations Training- Simple Tools To Share Your Faith
Ever had that moment where you wanted to share your faith with someone and you just didn't know where to start? Join us as we cover the "4-1-1" of how to share your faith. You will go away with a simple toolset that you can put into action right away and will help you clearly share the Good News with people you encounter. These tools work…guaranteed!
Of Frogs and Donuts: The Challenge of Bible Translation
The task of translation the Bible is complicated more than you should think! Hmmm…that's not a good sentence, is it? But did you get the basic idea? How would you say it better? You have likely read assembly instructions in English only to realize quickly that the writer was not a native English speaker; that can be funny! But it would not be a good situation for people to read the Bible in their language only to miss the point of a passage because they are laughing at how bad the wording is. Join us and discover the challenges of Bible translation and what it takes to do it well.
Kid's Workshop: "What do radios and eagles have to do with missions?
Galcom-Radio ministry to unreached (make a radio tower)- Shelley and Al
Albania- make a craft
---
MISSIONS AGENCIES

ABWE | https://abwe.org/

AVANT | https://avantministries.org/

CROSSWORLD | https://crossworld.org/

E3 | https://e3ministry.ca/

FAITH MISSION | https://faithmissioncanada.org/

FRONTIERS | https://frontiersusa.org/

GALCOM | https://galcom.org/

HERITAGE BIBLE COLLEGE & SEMINARY | https://discoverheritage.ca/
KEY BIBLE CLUBS | https://keybibleclubs.ca/

PIONEERS | https://pioneers.ca/

PREPARED TO ANSWER | https://preparedtoanswer.org/
SEND | https://send.org/

TEAM | https://www.team.org/?lang=en_ca

OUTREACH CANADA | https://prayercast.com/love-muslims-home.html

WEC | https://wec-canada.org/

WYCLIFFE | https://www.wycliffe.ca/

---
REGISTRATION

Although this event is free, letting us know you are coming will help us ensure we have enough refreshments.